Government pledges to help children living and working on the streets
By Messenger Staff
Monday, January 18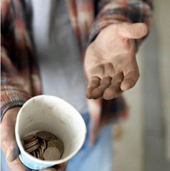 Several days ago, Georgia's Minister of Justice Thea Tsulukiani stated that from next year, the state government would take responsibility of children living and working on the streets.
This is one of the most painful problems that Georgia is facing, and needs urgently settling, as in a number of cases the children are victims of different types of violence.
The children have no identification documents and lack access to state-established services with regards to education, healthcare and other free, necessary services.
In most cases, the people who are responsible for the children do not care about their futures, and just use them as way to make money through begging.
In the event that they fail to earn money, the children easily become victims of physical and verbal abuse.
Such cases frequently lead to criminal activity, as there are some groups in the towns who use the children as a part of their businesses and make earn money through various ways.
The Minister highlighted that her body had devised a package of amendments that has already been approved by the Government, which will support children in need.
"In the draft, we pledge to make a range of public services available to homeless children," Tsulukinai said.
The Minister stated that in major cases, the children living and working on streets have no identification documents, which deprive them of receiving any state services.
"Through the draft, the children will no longer be dependent on parents or responsible individuals. The institutions caring about such children will have the right to address the Minister of Justice over the identification issues without the people's involvement," Tsulukiani said.
The Minister also stressed that the rights of civil servants will also broaden and they will have the right to immediately remove a child from an aggressive parent or guardian.
"Of course, a forced removal might be appealed in a court. However, a civil servant will have the right to swiftly address the problem to avoid any regrettable outcomes," the Minister said.
Such amendments and initiatives are of utmost importance, as without the protection of human rights - especially the rights of children – Georgia will never become a truly democratic state.
How effective the amendments will be in the future will likely soon become apparent, as the problem is widespread; most people see homeless children on the streets daily.
The Ministry should also work to raise public awareness of the issue, and inform the public that giving money to the children might actually lead to the torture of the children, as if they continue earning money the businesses and individuals who force them to do so will be increasingly empowered, and settling the problem will become harder.
People can help the children by giving them food, clothes and so on, but not by giving money.