US Ambassador says Georgia should care about diversification of energy resources
By Messenger Staff
Tuesday, January 19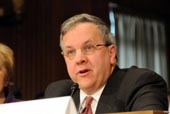 Georgia should not become dependent on one source of energy, the US Ambassador to Georgia, Ian Kelly, has told media.
According to him, Georgia needs to appreciate the importance of energy diversification.
"We have expressed our concern over the fact that Georgia should not become dependent on one source of energy and maintain diverse sources.
"We are satisfied with the explanations of the Georgian government. I think Georgia does have a short-term energy need and it should talk to all potential energy suppliers," said the Ambassador, and added that the government must be transparent about its energy policy.
With regards to concerns over Georgia relying on gas supplies from Gazprom, a Russian company, when some of its territories are occupied by the Russian Federation, the US diplomat said that he is sure that the Georgian government is fully aware of the existent challenges.
Several days ago, Georgian officials met with representatives from SOCAR, the Azeri company which provides gas to Georgia.
After the meeting, Georgian officials stressed that the country was in need of additional gas supplies, especially during the winter.
Georgian officials - in particular Minister of Energy Kakhi Kaladze - said that Georgia might fill the deficit with Russian gas.
The statement caused a negative reaction from the parliamentary opposition and parts of the non-governmental sector, which stated that the current Government might make the country dependent on Russian gas.
The diversification of energy resources is a welcome proposal; however, the share of the supply given from a country which occupies 20% of Georgia's territory should be kept to an absolute minimum. Dealing with Gazprom means dealing with Russia, and the Russian Federation has always used its energy resources for its own, political interests.
Thus, the Government must be very careful when making such decisions, both to avoid Georgia becoming reliant on Gazporm and to prevent social and political rest by undertaking action that made add credence to the claim that the government is, in fact, sympathetic to Moscow's political ambitions.