What results did Davos 2016 bring to Georgia?
Monday, January 25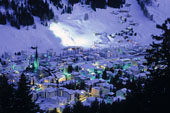 Global financial institutions will help Georgia fulfill its ambitious reform agenda.
Georgia's Prime Minister Giorgi Kvirikashvili was promised international support at Davos, Switzerland, where world leaders participated in the World Economic Forum.
Kvirikashvili summed up the results of the event and clamed that foreign financial institutions would help Georgia implement four of its biggest reforms:
• Tax liberalisation;
• Governance system reform;
• Infrastructural and regional development; and
• Educational reforms.
Rubbing shoulders with world leaders
During the past three days at Davos, the Georgian Prime Minister met a number of world leaders, who confirmed their firm support to Georgia.
Kvirikashvili met the Dutch, Swiss and Kazakh Prime Ministers, as well as the Azerbaijani President. Also, bilateral meetings were held with the presidents of the European Investment Bank, the European Bank for Reconstruction and Development and the Asian Infrastructure Investment Bank.
Georgia's Prime Minister met NATO Secretary General Jens Stoltenberg and discussed what steps Georgia needed to take to be properly recognised at the upcoming Warsaw Summit.
Kvirikashvili also met former British Prime Minister Tony Blair and the two sides agreed on cooperation through Georgia's reform agenda.
Summing up the bilateral meetings, Kvirikashvili stressed "a very friendly atmosphere" at the meeting with Azerbaijan's President and said IlhanAliyev would soon visit Georgia.
Looking ahead, the Prime Minister said he expected 2016 to be a "pretty good" economic year for Georgia.
(Agenda.ge)