TANAP consortium discloses pipeline construction pace
Monday, January 25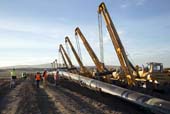 Despite difficult terrain and climatic conditions, the Trans-Anatolian Pipeline (TANAP) is being actively constructed, a gas pipeline construction consortium told Trend.
"The latest engineering achievements and equipment are used while constructing the pipeline," the consortium said. "The difficult terrain, climatic conditions and intersecting of the TANAP route with important highways, rail, telecommunication main lines, power transmission lines are all being taken into account, so the work on even the most difficult areas continues smoothly."
"Fifty six-inch welded pipes are being rapidly laid," TANAP said.
"The land plots have been purchased for laying 56-inch pipes," the consortium said. "The land plots are still being purchased."
The TANAP project envisages the transportation of gas of Azerbaijan's Shah Deniz field to the Georgian-Turkish border and then on to the western borders of Turkey.
The initial capacity of the TANAP pipeline is expected to reach 16 billion cubic meters of gas per year. Around six billion cubic meters of this gas will be delivered to Turkey and the remaining volume will be supplied to Europe.
Turkey will get gas in 2018 and after completing the construction of Trans-Adriatic Pipeline (TAP), it will be delivered to Europe in early 2020.
Currently, the shareholders of TANAP are the State Oil Company of Azerbaijan (SOCAR) with 58 percent, Botas at 30 percent, and BP with 12 percent.
(Trend.az)