National currency hits its peak of devaluation against USD
By Messenger Staff
Monday, January 25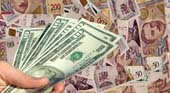 Georgia's national currency Lari is continuing todepreciate against the US dollar, hitting a record low against the American currency.
Currently, 1 USD costs 2.46 GEL.
The Georgian national currency has lost 3% of its value against dollar since the beginning of this year, and more than 25% since January 2015.
GEL started depreciation in November, 2014 falling by about 40% against dollar since then.
Georgia's Prime Minister, Giorgi Kvirikashvili, commented on the record lowest rate of the Georgian national currency since 1999 from the Davos economic forum.
"This is the correction of the GEL's exchange rate due the recent devaluation of the national currencies of our neighbouring countries. There is nothing alarming; we have every reason to be optimistic."
"We expect quite positive economic growth in Georgia this year and we do not have negative expectations for either the middle or long term," Kvirikashvili said.
It should be noted that the current Georgian Government has made the same statements since November last year and claims that these currency fluctuations are no cause for concern.
It might not be alarming for the Government, but for the ordinary people the situation is dire, as most people in Georgia have very low incomes.
Prices are increasing and it is becoming increasingly difficult for the population to live on their meagre incomes.
The recent depreciation of the national currency seems to be becoming the most important challenge for the current authorities in the view of the upcoming parliamentary elections this autumn.
In the event that the Government fails to improve the situation, it will become difficult for them to win votes.
No recent Georgian governments have succeeded in improving the living conditions for the majority of the Georgian people.