Brighter money: New Lari banknotes released
Tuesday, February 2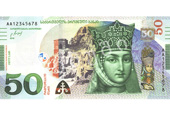 Georgia's vibrant new banknotes are being released.
Modernised 20 and 50 GEL (Georgian lari) banknotes in bright new colours and sizes are coming into circulation around the country, announced the National Bank of Georgia (NBG).
The process started from February 1.
The new money had high-tech security features and was better protected from fraudulent copying. The bills were also of better quality and met top international standards.
The NBG said the new money depicted the same iconic faces but had a vastly different and a more vibrant look with additional elements.
The new money will circulate alongside the existing banknotes.
"The upgraded lari banknotes are protected with modern and high technological and security features that…are easily intelligible for users. Furthermore, the banknotes have improved features for visually impaired people," reads the press release published by the NBG on a new website dedicated to the new banknotes.
During the 20-year history of the Georgian lari, this was the first major upgrade of the banknote's design.
The original lari banknote themes have been preserved on the new bills but, the modified design presented Georgian cultural and historical heritage with "more precision and a more modern appearance", said the Bank.
The modern 20 GEL note sported a brighter red colour while the 50 GEL note was green.
The NBG said a renewed 100 GEL note will be issued later this year and this will feature a deeper purple colour.
The size of the new lari bills has also changed; the greater the note denomination, the larger the size of the banknote.
"The style of design, parameters and security features of the renewed banknotes were modern, tested and consecutive for each denomination. Furthermore, the components of the design were integrated into modern security features, which consequentially created 'a concept of one family'," said the NBG.
Some of the world's leading security printing companies Giesecke & Devrient (Germany), Oberthur Fiduciaire (France), De La Rue (England) were involved in the lari's redesign project together with the NBG.
Later the bank will also modernise the 5 and 10 GEL banknotes.
(Agenda.ge)