Snap election and its signals
By Messenger Staff
Tuesday, February 2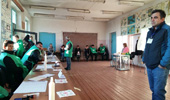 Several days ago,a snap election was held in Georgia's eastern Gardabani region.
The locals voted to elect the region's new Governor, as the previous Governor died during his tenure.
Only 33% of voters attended the elections, and the ruling Georgian Dream (GD) candidate won with 70% of the vote, when his only rival from the opposition United National Movement (UNM) gained the remaining 30%.
It should be stated that the area is mainly settled by an ethnic Azeri population, and during almost everyprior election, voter turnout was high.
In many cases, Government affiliated-parties typically won elections there.
Speaking with local media,dozens of residents of Gardabani claimed they had no idea why the elections were being held or who the electoral candidates were.
It is also worth mentioning that the UNM candidate poster included ex-President Mikheil Saakashvili's name.
It was one of the signals that the locals still voted based on who the "leaders" of the parties are, even though Saakashvili is no longer in Georgia .
The fact that the turnout was so low means that people are disillusioned with national politics, and such low numbers might reemerge at the upcoming parliamentary elections later this year.
The higher the turnout, the more legitimate a political party (and its leader) will appear to be; the opposite is also true.
The fact that the greater part of the Gadabani population refrained from participating in the election is a signal that new parties have serious chances if they decide to come to power.
In the event that they elect aprominent, positive leader, their chances of victory will increase, as unfortunately, Georgians still base their vote around the leader of a party rather than the party's policies.
The upcoming elections will undoubtedly be very interesting, and none of the parties currently enjoy high enough ratings for them to be sure of electoral victory.