Opposition leader warns about security threats
By Messenger Staff
Monday, February 8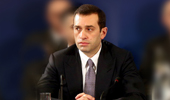 The Free Democrats(FD) opposition leader Irakli Alasania, who previously served as Georgia's Defence Minister, has stated that regional fiber optic cables may be in the hands of Russia.
Alasania has dubbed the information 'alarming' and demanded an explanation.
"Negotiations are underway on the alienation of the strategic fiber optic channel, which is linked to Europe and which gives Internet to Georgia. It should be noted that until recently, it was owned by a Georgian company, but we have information that it will likely be purchased by a Russian company, Vimpel Com," Alasania said.
"This information is so important for our country's security that it is needed the National Regulatory Commission to issue an explanation. In today's world, the risk of cyber-attacks is ever-present, and so this is very alarming information," the opposition leader said.
Vimpel Comis also known to operate in the occupied territory of Abkhazia.
The relevant bodies should comment on the issue, as it is of the utmost importance for the state's security.
The issue is no less important than Georgia becoming dependent on Russia's energy resources.
The modern world is unimaginable without the Internet, and it is also proven that Russia very often uses the Internet against its rivals.
It has also known that Georgia has previously been a victim of Russia's cyber-attacks.
Georgia needs its Internet space to be safe and not in the hands of companies which are controlled by a country that occupies 20% of Georgia's territory.