Georgia hopes positive decision to be made on visa liberalization soon – Georgian FM
By Messenger Staff
Tuesday, March 1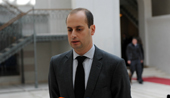 "Georgia hopes that a positive decision on visa free travel to the EU will be made soon," Georgia's Foreign Minister, Giorgi Janelidze, said at a joint press-conference held after meetings with his Spanish counterpart.
According to the Minister, the Georgian side is waiting for an official statement over the issue at the moment.
'Visa liberalization requires changing all the corresponding regulation. The commission should initiate the change, and then it will be discussed by the EU council as well the European Parliament. We hope the discussions will be over soon," Mikheil Janelidze said.
(IPN)