Azerbaijan's SOCAR meets Georgia's natural gas demand Georgia offers Russia's Gazprom to continue with old terms
Tuesday, March 8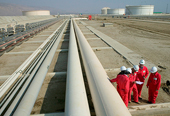 "The Government of Georgia had provided the best conditions for a continuous gas supply and energy security," says Georgia's Foreign Minister Mikheil Janelidze while commenting on the recently-signed Georgia-SOCAR deal.
Georgia's natural gas supply deficit has now been solved until 2030, as during the next 14 years Georgia will receive an additional 500 million cubic metres (m3) of natural gas from Azerbaijani's national oil company SOCAR, raising the amount it receives from 800 million to 1.3 billion m3 per year.
The new deal with SOCAR, securing Georgia's natural gas supply needs for the coming years, comes as Russian energy giant Gazprom seeks to renegotiate the terms of its agreement for the transit of its own gas through Georgia to Armenia.
After signing the deal with SOCAR on March 4, Georgia's Energy Minister Kakha Kaladze affirmed that Georgia "recently sent our last offer [to Gazprom], the conditions of which envisage the continuation of the old terms of the contract, namely the supply of 10 percent of all transported natural gas" in return for transit rights and no monetary compensation.
To date, Georgia has received 200 million m3 of natural gas per year from Russia in return for transit, said Georgia's Energy Ministry.
While deepening the energy partnership with Azerbaijan, Georgia offered Gazprom to continue with the old agreement's terms.
"There is no need to import more gas from Gazprom after dealing with SOCAR. Georgia will receive raw material from Gazprom in return for transit rights," said Janelidze.
The country's Foreign Minister said the Government's goal was to provide Georgia with a continuous and stable energy supply, especially when the natural gas consumption has increased by 40 percent since 2012 in Georgia.
"To achieve this goal the Georgian Government held long-term and open negotiations which ended successfully. Our friend and strategic partner Azerbaijan found additional resources to supply Georgia with more natural gas. This negotiation was confirmed with the deal signed last week between the sides," Janelidze added.
The Georgia-SOCAR deal also emphasised the reduction of the price of commercial gas supplied to Georgia to $35-40 USD per 1,000 m3 of natural gas. The price of non-commercial gas will also be lowered.
(Agenda.ge)