Parliament Speaker: We are not considering or discussing the possibility of a bipartisan coalition
By Messenger Staff
Tuesday, March 8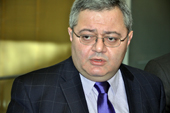 Georgia's Parliament Speaker Davit Usupashvili says there are no talks about a bipartisan Georgian Dream coalition.
Usupashvili stresses there is a strategic cooperation agreement between the Georgian Dream and Republican parties.
"Lately, a great uproar was caused by the statements of the Republican Party and the Prime Minister on our strategic partnership. This was followed by a lot of speculation, and I would like to clarify that we talk not about a bipartisan coalition, but about strategic cooperation agreement between two parties.
"In the future, within the coalition, it is important for us that the Republicans have a mutual understanding with the leading member of the coalition - the Georgian Dream party itself," said Usupashvili.
The Parliament Speaker, who is a founder of the Republican Party, made the statement after a confrontation between the Industrial and Republican parties, both coalition members.
The head of the Industrial Party Gogi Topadze accused current Minister of Defence from the Republican Party, Usupashvili's wife Tinatin Khidasheli, of rigging the 2015 by-elections in the Sagarejo region by rushing in soldiers to vote for the Republican's candidate, Khidasheli's relative.
The Chief Prosecutor's Office also expressed concern over the issue and launched an investigation.
Khidasheli dismissed the accusations and stressed that damaging her professional image was in the interests of anti-European forces. She also said a similar campaign had been launched in 2014 by the Prosecutor's Office against then-Defence Minister Irakli Alasania, whose employees were arrested and who quit the coalition with his Free Democrats party in November 2014.
However, she said unlike Alasania she would control her nerves better and the Republicans would stay in the coalition.
Commenting on the issue, Prime Minister Giorgi Kvirikashvili said that Khidasheli is primarily a Cabinet member; her status in the Republican Party is secondary to her government responsibilities, and she should have refrained from involving herself in the argument with the Industrials.
The meeting between the Republicans and the Prime Minister was held after the PM's statement that ended with a strategic partnership agreement between the GD and the Republicans.
Asked about the issue Usupashvili said he did not intend to defend the Defence Minister, but said Khidasheli made statements only after the Prosecutor's Office launched the investigation, as the issue was directly linked with her Ministry.
This strategic partnership might signify that the GD and the Republicans will be together for the upcoming 2016 parliamentary elections.
The GD needs the Republicans for its international image; if the Republicans quit the coalition it will raise serious question marks concerning the country's foreign orientation. On the other hand, the Republicans also need the GD as they alone - due to their law ratings - will have few chances to be elected to Parliament.