Education system does not have enough qualified teachers
By Messenger Staff
Monday, March 14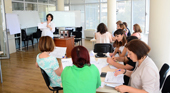 The majority of Georgian teachers have failed in their qualification tests offered by the Ministry of Education of Georgia.
Exams of this have already been done several times with similarly unfavourable outcomes.
The results of the January 2015 tests were aired by the Maestro TV Business Contact program.
A total of 10,552 teachers were registered for the January 2015 exams, but only 6,477 sat the exam and of these, only 1,101 managed to achieve the minimum score or higher. This only reaches 17 % of the teachers who took the exam.
Only 26 out of 381 maths teachers passed the test, just 7 percent of the total number of maths teachers, while 15 percent of 317 Georgian literature and grammar teachers passed the exam set for their own subject.
Nine percent of teachers passed the exam in natural sciences, while 19 percent passed the exam in physics and 17 percent passed the test in chemistry.
Another 458 teachers took an English test, but only 83 of them passed. A further 10 out of 29 passed in German, while almost more than half passed the Russian language test.
The figures are dramatic, and indicate towards a total failure of the education system.
Firstly, it is interesting how the tests are written and how well they reveal the knowledge of teachers in their chosen subject; secondly, teachers have the right to take the exams five times, which surely grants them too many chances to rectify their mistakes. Retake opportunities should be reduced to three as a maximum.
Those who have good qualifications in their chosen subjects mainly refrain from teaching at public schools as the salaries are very low, ranging between 400-500 GEL monthly.
Those young teachers or graduates who pass such exams do not have the chance to start working as there are not enough places at schools.
In addition, most teachers do not have the chance to improve their knowledge with further studies.
The government must aknowledge the fact that Georgia's education system requires systemic changes and urgent reform.