Georgia developing close relations with Azerbaijan – President
Monday, April 4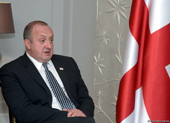 Georgian President Giorgi Margvelashvili has met with the President of the Rumsfeld Foundation and former US Secretary of Defence, Donald Rumsfeld, within the frameworks of his working visit to the US, Georgia Online reported.
At the meeting, Margvelashvili said in particular that Georgia continues to develop close relations with Azerbaijan and Turkey. Joint projects are related to both energy carriers from the Caspian to the Black Sea and the transport and logistics fields, he said.
"The Lapis Lazuli Corridor is quite an important project, and there is active consideration going on today with Turkmenistan in connection with this project, which includes Afghanistan, Turkmenistan, Azerbaijan, Georgia and Turkey," said President Margvelashvili.
During the meeting, the parties discussed the Southern Gas Corridor project, which envisages the supply of Azerbaijani gas to Europe via Georgia and Turkey.
The Southern Gas Corridor is one of the priority energy projects for the EU. It envisages the transportation of gas from the Caspian Sea region to the European countries through Georgia and Turkey.
At the initial stage, the gas to be produced as part of the Stage 2 of development of Azerbaijan's Shah Deniz field is considered as the main source for the Southern Gas Corridor projects. Other sources can also connect to this project at a later stage.
As part of the Stage 2 of the Shah Deniz development, the gas will be exported to the Turkish and European markets by expanding the South Caucasus Pipeline and the construction of Trans-Anatolian Natural Gas Pipeline and Trans-Adriatic Pipeline.
(Trend.az)