Stoltenberg: 'Russia willing to use military force and intimidate neighbors'
By Messenger Staff
Monday, April 11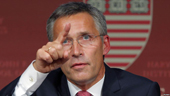 NATO Secretary General Jens Stoltenberg believes Russia has become 'more assertive' and eager to re-establish a sphere of influence around its borders.
"Russia under President Vladimir Putin, in an attempt to re-establish a sphere of influence around its borders, is willing to use military force…to intimidate neighbors, to change borders in Europe, annex Crimea, destabilize eastern Ukraine, and maintain troops in Georgia and Moldova and so on," Stoltenberg stated at the Atlantic Council in Washington DC last week.
However, he stressed in response to Russia's 2014 annexation of Crimea (part of Ukraine) and subsequent support for separatists in eastern Ukraine, NATO has become "more agile and better prepared," and its Response Force is now three times bigger.
Stoltenberg said in the long run, it was more sustainable to enable local forces to protect their countries than to deploy large number of NATO troops there.
"We have recently launched training and capacity building initiatives in Georgia, Moldova and Jordan. And we will soon begin advising Tunisia on counter-terrorism and help improve the capacity of their armed forces," Stoltenberg said.
In his speech, the top NATO official also touched upon various issues with a major focus on terrorism.
Deploying NATO forces in Georgia is risky, as Russia might constitute their presence as a threat attack to its own interests. This will only further complicate the situation in Georgia and in the region.
Georgia needs to upgrade its self-defence capabilities and it can be said that the country is on the right path in this regard.
However, Georgia needs more guarantees, and from this point of view this year's NATO Warsaw Summit will be of the utmost importance.
The Summit should provide certain guarantees for Georgia, as certain parts of the population have already lost hope or interest in Georgia's membership prospects in the alliance, even in a long-term perspective.
The Summit should reflect Georgia's progress towards full Euro-Atlantic integration and the appreciation should be relevant to encourage Georgia to advance further.