Parliament approves amendments to prevent private life infringements
By Messenger Staff
Monday, April 18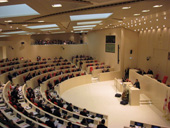 Last week, the Parliament of Georgia approved amendments with its first reading that envisaged tough punishments for those taping, possessing or spreading personal life videos.
The amendments, supported by 87 lawmakers out of the 150-seat legislative body, envisage four to seven years in jail for breaking the law in this way; repeat offenders will serve an increased sentence from six-nine years behind bars.
If such a crime is committed by a state official who is obliged to keep state secrets, the punishment will be stricter, with seven to ten years in prison.
The amendments ,which were initiated by Parliament's Human Rights Committee, required an additional two readings to come into effect.
The punishment in this regard must be very strict as it is directly linked with human rights and Georgia's democratic development.
Thousands of personal life videos were taped and kept by the previous United National Movement (UNM) government; a major part of the seized videos were destroyed by the current Government in 2013.
However, leaking of the videos still takes place.
Of course, it is quite impossible to be sure that the government seized all copies of the videos, as those who taped the videos might still have copies.
Herewith, those who were involved in such illegalities under the previous leadership may still be working in law-enforcement bodies as the current Government refrained from mass firings.
One of the reasons of their reluctance was to avoid negative responses from the international community, as the firing or detention of government employees unaffiliated with the ruling party drew accusations from the opposition.
The spread of the illegal surveillance videos once again proved the necessity of strong punishments to those who were engaged with such activities and also about the necessity of systemic reform in Georgia's law enforcement bodies.