Which minister will be on Republicans' election list?
By Messenger Staff
Tuesday, April 19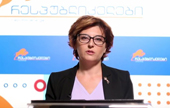 Republican Party Chairwoman Khatuna Samnidze cannot specify whether the party's three current ministers will be on the election list.
Samnidze said the process of formation of the list has not been started yet. She stressed the relevant decision will be made by the party's National Committee.
"Most likely all three ministers, or at least one of them, will be on the list. The decision will be made in agreement with them at the National Committee of the party, she said.
The Republican Party has three ministers in the government: Minister of Defence Tinatin Khidasheli, Minister of Reconciliation and Civil Equality Zaata Zakareishvili and Minister of Environment Gigla Agulashvili.
The Republicans have already stated they would participate in the upcoming October parliamentary elections alone, independent from the current ruling Georgian Dream (GD) coalition to which they belong.
However, an agreement has been reached through which the Republican ministers will retain their posts until the elections.
Georgia's Prime Minister Giorgi Kvirikashvili did not exclude some change in the Cabinet of Ministers before the elections, but he said there would be no major reshuffles.
If any current Minister from the Republican Party appears in the election list, he/she will likely have to quit the post.
In this situation it is a natural process, but in general Georgia still suffers from a negative tendency of changing ministers too frequently.
During the tenure of the previous state leadership, one and the same person could be the Minister of Defence, Education and Environment at different times.
Unfortunately, this type of reshuffles still continue which ultimately affects the country, and confuses both the Georgian people and Georgia's foreign partners.
This tendency must change as it is not according to civilised democracy, and damages stability and the prospects of sustainable development.