C.Bank Buys USD 10mln amid GEL Appreciation
Monday, April 25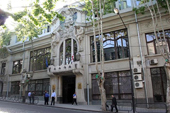 The National Bank of Georgia (NBG) bought USD 10 million at a foreign currency auction on April 20 as the national currency lari (GEL) continued strengthening against U.S. dollar.
It was NBG's fourth intervention on the purchasing side. The central bank bought total of USD 35 million in these four interventions in a period between March 17 and April 20.
GEL was trading at 2.234 per U.S. dollar by late Wednesday afternoon, a 6.7% stronger since the beginning of the year and up to 1% stronger compared to April, 2015.
GEL started depreciation in November 2014, weakening from about 1.75 per U.S. dollar to its all-time low of 2.4985 by late January, 2016.
Amid lari's depreciation, the central bank made three interventions in January by selling total of USD 60 million. Total of USD 286.96 million was sold in nine separate interventions throughout 2015 to support GEL.
Gross international reserves stood at USD 2.456 billion as of end-March 2016, up from USD 2.425 billion a month earlier, and slightly more than a year earlier of USD 2.452 billion.
(Civil.ge)