Eight young Georgians compete at Cannes Young Lions Competitions
Tuesday, April 26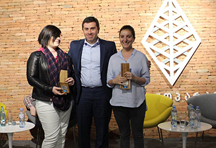 Eight Georgian "young lions" are ready to compete at the world's biggest advertisement festival in France.
The "young lions" were selected after winning special domestic competitions for the Cannes Young Lions Competitions. The competitions are regarded as one of the world's most prestigious events in the communication and marketing industry.
Earlier this month, dozens of aspiring Georgians took part in a series of local Cannes Young Lions Competitions, which ended with eight "young lions" being selected to represent Georgia at the international Cannes Lions festival in June to compete alongside some of the world's best young creative minds.
This year, Georgia will send four groups of two people to the competition. The winning teams were chosen by a 30 person jury.
The winners were revealed in the following categories:
• Category Print – winner ABK – Levan Melikishvili and Irakli Asatiani;
• Category Young Marketer – winner Bank of Georgia – Ana Markozashvili and Nino Ungiadze;
• Category Design – winner ABK – Mikheil Todua and Sandro Laliashvili; and
• Category Cyber – winner Leavingstone – Giorgi Avaliani and Anano Miminoshvili.
In June these eight people will depart for Cannes with the support of Georgia's Innovation and Technology Agency.
In total, 232 applicants from 33 local advertising agencies and 45 marketing companies registered for the Cannes Young Lions Competition in Georgia.
Last year, pioneering Georgian advertising company Leavingstone was recognised at the Cannes Lions International Festival of Creativity, the most notable event in the creative communications industry.
Last year Georgia and the Cannes Lions signed a cooperation agreement, which gave the country the right to be an official representative of all events under the umbrella of Cannes Lions. These events are: Cannes Lions, Eurobest, Lions Health, Lions Innovation, Spikes Asia, Dubai Lynx and the Asian Marketing Effectiveness and Strategy Awards.
Georgia's Ministry of Economics explained last year that Georgia participated in only one category as a pilot regime while this year the country was involved in all four categories.
(Agenda.ge)