WB allocates $1B, EIB €1B to TANAP
Tuesday, April 26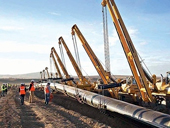 The World Bank plans to allocate $1 billion for The Trans-Anatolian Natural Gas Pipeline (TANAP), APA-Economics reports citing to the Hurriyet newspaper.
At the same time, the European Investment Bank will allocate €1 bln to TANAP.
According to a source in the bank, the World Bank intends to be a part of TANAP: "We'll provide financial assistance to BOTAS to the amount of $1 bln. At the same time, we are also collaborating with the European Investment Bank. SOCAR has 58% equity in TANAP, BOTAS 30 and BP 12%. These shareholders fund the project in accordance with their equity. EIB is going to invest in TANAP. Under the sharing, BOTAS is to invest $3 bln in TANAP. For this purpose, BOTAS will attract $1 bln from WB, €1 bln from EIB".
The first gas transportation via TANAP is planned to be carried out in 2018. The 1,850 km pipeline will deliver 10 bcm to Europe once it is connected to the Trans Adriatic Pipeline (TAP) by 2020. By 2023, TANAP's capacity will rise to 23 bcm per year and then to 31 bcm by 2026.
The construction of the Trans Anadolu Gas Pipeline (TANAP) has been estimated to cost $10-$11 billion,
TANAP shareholders: SOCAR (58%), BOTAS (30%), BP (12%).
(News.Az)