Georgia's Ambassador to US highlights importance of PM's American trip
By Messenger Staff
Tuesday, April 26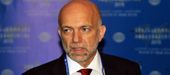 The Ambassador of Georgia to the United States, Archil Gegeshidze, says that Prime Minister Giorgi Kvirikashvili's visit to the United Nations will strengthen the Georgian-American relationship and will be a strong stimulus for its expansion.
According to him, during this visit, relations between the two countries will be discussed and new perspectives will be devised.
Gegeshidze said that Georgian-American relations are exemplary in the region.
"We can proudly say that our relationship is exemplary in the region. The ongoing efforts for the development of our cooperation can be seen in the results achieved. More commitment and motivation will further strengthen these relations," said Gegeshidze.
Prime Minister Kvirikashvili will stay in the US until April 28.
The PM's Press-Service reports Kvirikashvili will hold a meeting with U.S. Vice President Joseph Biden, along with meetings in the Senate and House of Representatives.
In addition, Giorgi Kvirikashvili will meet representatives of leading U.S. businesses and NGOs. He will also hold meetings with the World Bank President and the IMF Deputy Director.
He will then deliver speeches at the U.S. Institute of Peace and Illinois University. The PM will also hold a meeting with Georgian students living in Boston.
Prior to the upcoming parliamentary elections, this type of trip to a strategic partner nation is of the utmost importance.
America's support in various directions, especially in terms of NATO integration and boosting Georgia's self-defence capabilities, has been vital.
Prior to the NATO Warsaw summit and amid Russia's aggression on Georgian soil, Georgia requires attention and open support from its strategic partners.
At this stage, Georgia requires more international attention, as the United States is involved in pre-election campaigning of its own, which has shifted Washington's focus to domestic issues.