Special evacuation construction will open in mountainous Georgia
By Messenger Staff
Monday, May 9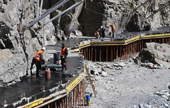 Georgia's Ministry of Regional Development and Infrastructure is building a special 'evacuation construction' on Mtskheta-Stepantsminda-Larsi road section that will ensure safe transporting of people in case of road complications or national disasters.
The Mtskheta-Stepantsminda-Larsi road section that leads to the Georgia-Russia border often faces restrictions due to bad weather.
The evacuation construction initiated by the Ministry of Infrastructure envisages the construction of a 208, 80 meter long and 2,25 meter wide tunnel and a special watch tower.
In case of emergency situations, people working on the tower 24 hours day and night will send a signal to relevant emergency bodies. The bodies must ensure the closure of traffic and the safe transport of people from the disaster zone to the safe, evacuation area through the tunnel.
Construction was launched in June last year and was scheduled to be completed before the end of the year.
The cost of the project was $545,000.
Such projects are of the utmost importance, especially in areas that are most susceptible to natural disasters and avalanches.
There are several roads in Georgia, especially in mountainous regions, that require additional security measures.
The Government should also take further steps to ensure early warning systems.
Last year, a deadly flood in Tbilisi claimed 19 lives, and was one of the disasters in Tbilisi's history; it was a poignant reminder that Georgia requires better early warning systems.