Tbilisi welcomes 60 new gas-operated buses
Tuesday, May 10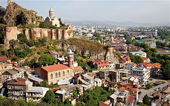 Dozens of gas-operated buses are being introduced to Georgia's capital this summer in a bid to modernise the city's public bus fleet and reduce vehicle emissions.
Georgia's Finance Minister Nodar Khaduri has said the European Bank for Reconstruction and Development (EBRD) was financing the initiative to introduce 60 new buses in Tbilisi.
The new buses will run on compressed natural gas (CNG).
Discussions about overvaluing Tbilisi's public bus fleet started in December 2015 when the EBRD and Tbilisi City hall announced they would invest €30 million to purchase 150 new buses for Tbilisi.
In an exclusive phone conversation with the press officer of Georgia's Finance Minister today, Agenda.ge was told the addition of 60 buses was part of the big project however the spokesperson did not clarify how many buses in total will be added to the city's bus fleet or how much money will be spent on this project.
Upgrading the public bus fleet in Tbilisi was one of several projects to improve the sustainability of the country's transport sector and reduce the effects of vehicle emissions.
(Agenda.ge)