Visa liberalization issue to be discussed on May 11 at the Council of EU
Tuesday, May 10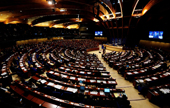 The EU Council will discuss Georgia's visa liberalization issue on May 11. As Georgian Foreign Ministry has informed IPN the issue will be discussed by representatives of justice and interior ministries at a technical level.
Head of the Foreign Ministry Mikheil Janelidze has commented on the issue today saying all steps are being made towards Georgia to receive visa liberalization as soon as possible.
"All due processes and procedures are underway in relation to visa liberalization. On May 11 another discussion is scheduled. We see the steps being taken towards visa liberalization," he has said.
Visa liberalization with the EU will allow Georgian citizens,who have biometric passports to visit to the EU for short periods without a visa.
(IPN)