Foreign Minister does not rule out meeting with Russian FM
By Messenger Staff
Tuesday, May 10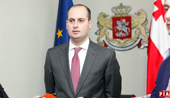 Foreign Minister of Georgia Mikheil Janelidze says a meeting with Russian Foreign Minister Lavrov is not ruled out in the event of 'proper circumstances and readiness'.
He made the statement in an interview with a Georgian weekly newspaper,
Kviris Palitra
.
"While having no diplomatic relations with Russia, we try to effectively use formats of international discussions in order to ease the tension with Russia.
"We try to conduct a policy of peaceful resolution of the conflicts and provide the creation of a stable environment at the controlled territory as all reforms to be implemented in relation to Euro integration and economic development," he remarked.
Meanwhile, Russia continues to recognize Georgia's de-facto regions of Abkhazia and South Ossetia as independent states and revealed its anger over Georgia-US military training scheduled for this month.
Yesterday, the Russian President congratulated former Soviet citizens on Victory Day, which commemorates the defeat of Nazi Germany. A letter of congratulations was intended for Georgia, while "citizens" of Abkhazia and so-called South Ossetia were mentioned separately from Georgians.
According to the Kremlin, the Russian President emphasized in the message that Victory Day is a holy day, which will remain a symbol of heroism and unity of all the peoples who saved the world from fascism.
The possibility of a meeting between Lavrov and Janelidze was mentioned last month, which triggered controversy in the ruling Georgian Dream (GD) coalition.
A member of the GD coalition said Janelidze was too young and did not have enough experience to meet and speak with Lavrov, who is an extremely experienced political leader and diplomat.
The statement generated criticism from other members of the GD, who vocalised their trust and belief in Janelidze's knowledge and political experience.
If such a meeting really takes place, Georgia must be well prepared to defend its interests, and anyone who represents Georgia must be very experienced and skilful to speak with Lavrov, who is one of Russia's political heavyweights.