TAPI investments to be discussed in Turkmenistan
Tuesday, May 17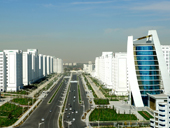 A roundtable meeting devoted to attraction of investments to the construction project of Turkmenistan-Afghanistan-Pakistan-India (TAPI) gas pipeline will take place within the framework of the VII International Gas Congress of Turkmenistan to be held May 20-21 in the Avaza national tourist zone, according to the government's message May 16.
The TAPI gas pipeline will make it possible to deliver gas from Turkmenistan, which ranks fourth in the world on biggest gas reserves, to the large and promising markets of South and Southeast Asia. The pipeline is to run from Galkynysh - the largest gas field in Turkmenistan - through the Afghan cities of Herat and Kandahar, and finally reach the Fazilka settlement located near the India-Pakistan border. The main document for the TAPI, called the Ashgabat Interstate Agreement, was signed in 2010.
The groundbreaking ceremony for TAPI's Turkmen section was held in mid-December of 2015.
The estimated cost of the project will exceed $10 billion. The annual capacity of the gas pipeline will reach 33 billion cubic meters. It is planned that the total length of the TAPI pipeline will be 1,814 kilometers. Some 214 kilometers will pass through the territory of Turkmenistan, 774 kilometers - Afghanistan, 826 kilometers - Pakistan.
Representatives of Turkmen state structures, international organizations, relevant ministries and institutions, as well as oil and gas companies from 37 countries are expected to participate in the VII International Gas Congress of Turkmenistan.
Topics such as the expansion of mutually beneficial international cooperation in the energy sector, diversification of export routes of Turkmen energy resources, and the construction of interstate gas pipelines will be submitted to agenda of the congress.
At the last meeting of the Cabinet of Ministers of Turkmenistan, President Gurbanguly Berdimuhamedov emphasized the fact that the VII International Gas Congress will contribute to expansion of mutually beneficial dialogue, identification of further ways of effective cooperation with foreign partners.
The Turkmen president added that his country, which has enormous hydrocarbon potential, pays great attention to achieving balanced solutions for strengthening energy security as an important factor of regional and global sustainable development.
(Trend.az)