Crime rate has not increased
By Messenger Staff
Tuesday, May 17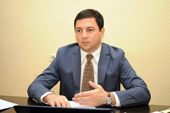 Deputy Interior Minister Archil Talakvadze says there has been no increase in the crime rate in Georgia.
He said this in response to reports which claim that the crime rate has increased in the country and the opposition's continued criticism over the issue.
"We cannot see any crisis with regards to the criminal situation in the country. All important crimes are timely investigated; our police are very effective against serious crimes. If you look at the dynamics in the last three years, you will see a solid reduction in crime. There is an increase only in cybercrime, which is related to world cyber security trends and the extended use of electronic systems," said Talakvadze.
He added that the Interior Ministry will launch a new cyber security campaign in the near future.
It should be highlighted that the previous state leadership took huge steps against crime, especially with regards to organised crime.
They also did much to change the national mentality to be changed regarding criminal bosses, as many boys in 1990s had ambitions to embark on a criminal career.
The previous United National Movement (UNM) government also introduced the patrol police, who enjoyed high ratings in Georgia.
However, gradually the previous government turned the country into a police state, where police officers enjoyed greater privileges than ordinary citizens and became immune to punishment for their own violations of the law.
It was also said by various NGOs that the previous state leadership was hiding crimes and demanded that law enforcement bodies not register the illegal activities of politicians.
The current government seems to be attempting to be more loyal to its people, but there are some issues in which state bodies must be very strict.
For instance, there must not be toleration for traffic violations or any type of crime.
There are also people who say now that they do not feel safe when they leave their cars unattended, when they could leave their vehicle unlocked during the time of the previous state leadership without fear of it being stolen.