New Iranian airline enters Georgia to carry tourists
Monday, May 23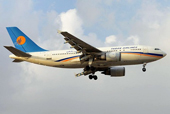 Taban Airlines will soon launch direct flights between Iran and Georgia.
The company will begin carrying out multiple charter flights in June, announced the Georgian Civil Aviation Agency.
The flights will mainly be oriented on carrying Iranian tourists to Georgia and back.
Taban Airlines will cover these directions:
• Isfahan-Tbilisi-Isfahan: twice a week;
• Tehran-Tbilisi-Tehran: twice a week;
• Mashhad-Tbilisi-Tabriz: once a week;
• Tehran-Batumi-Tehran: once a week; and
• Tabriz-Batumi-Mashhad: one a week.
"The reason for Taban Airlines entering Georgia was [because there is] increasing interest from Iranian visitors to Georgian touristic zones," the Agency said.
Air traffic between Georgia and Iran resumed on February 26, 2016. Since then, ATA Airlines and Qeshm Airlines have been carrying out direct flights between Tbilisi and Tehran, which transported 6,987 passengers.
(Agenda.ge)