Four Georgians kidnapped
By Messenger Staff
Monday, May 23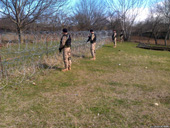 Last week on May 19, four Georgian citizens were kidnapped from the Dzirula village in western Sachkhere region, laying about eight kilometers from the Administrative Boundary Line (ABL) separating de-facto Tskhinvali (South Ossetia) from the rest of Georgia.
The four men were working with their beehives when several armed individuals kidnapped them, witness Valeri Chkhitunidze told Georgia's Public Broadcaster.
Chkhitunidze said the only reason why the attackers refrained from taking him was his age, as it would be impossible for an old man to walk several kilometers.
The witness also said the armed people spoke Georgian, Russian and Ossetian.
Chkhitunidze believed the people were Ossetians rather than Russians.
Georgia's relevant bodies informed the European Union Monitoring Mission (EUMM) over the illegal detention.
The following day the four were released. A Tskhinvali court imposed a 2000 rouble (64 GEL/30 USD) finee and released them once they paid it.
The de-facto leadership said the people had crossed the so-called border.
It is one case among hundreds that has taken place since the Russia-Georgia war in 2008 after which Russia recognized the independence of two Georgian regions, Abkhazia and Tskhinvali (South Ossetia).
Through these actions, Russia provokes Georgia, but such activities truly hint towards the poor living conditions in the regions; their ransom demands rarely go above 30 US dollars.
It is very regrettable that the only practical step that Georgia can take is informing the international community who will then condemn the incidents, which causes extreme irritation and a feeling of injustice throughout Georgia.