Investor spends $120m to build oil processing plant in Georgia
Tuesday, May 24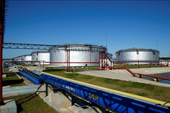 An oil processing plant is to be built in western Georgia's Kulevi village.
The village is close to the Kulevi oil terminal on the eastern Black Sea coast in Georgia.
Georgia's Economic Ministry said the new modern plant would produce light and medium distillates as well as generate 40 mg/h of electricity.
On May 20 it was announced the investor responsible for building the new plant was Pazis Oil representing Socar Georgia Investments.
Georgia's Economy Ministry has imposed a number of responsibilities the investor must adhere to, including:
• The company must invest $120 million USD in Kulevi;
• It must build an oil producing plant and be operational by December 31, 2019;
• The plant must have the ability to process no less than 2 million tonnes of light crude oil;
• The plant must have the ability to produce Euro 5 or equivalent standard fuel;
• For at least 10 years after the production launches, no less than 70 percent of employees must be Georgian citizens.
"Implementation of this project will be positively reflected on industry development in the region and employment in Georgia," the Economic Ministry said.
(Agenda.ge)