Latvia urges Azerbaijan to use its transport infrastructure
Tuesday, May 24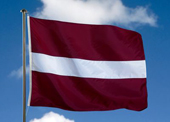 Uldis Augulis, the Latvian transport minister, called on Azerbaijani representatives to cooperate in the transport sector, Latvian media reported May 20.
Augulis was participating in the International Transport Forum in Leipzig, Germany, on May 17-19.
During the meeting with Transport Minister of Azerbaijan, Ziya Mammadov, Augulis said that Latvia and Azerbaijan had built good and constructive relations in road hauling and aviation but called for increased cooperation, urging Azerbaijan to use the Latvian transport infrastructure for exports to the EU.
According to the Azerbaijani State Customs Committee, Azerbaijan-Latvia trade turnover amounted to $2.87 million in January-April 2016. Some $2.63 million of this amount accounted for import of goods from Latvia.
(Trend.az)