CoE efforts to obtain access to occupied regions
By Messenger Staff
Tuesday, May 24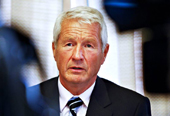 The Secretary General of the Council of Europe (CoE), Thorbjorn Jagland, says the CoE continues to prepare reports on the frozen conflict in Georgia and to obtain access to Georgia's occupied territories.
The CoE official said at the 126th meeting of the Committee of Foreign Ministers of CoE that was held in Bulgaria on 17-18 May.
Georgia's Minister of Foreign Affairs Mikheil Janelidze attended the gathering.
Jagland said the decision taken by the Committee of Foreign Ministers in early May over the human rights situation in Georgia's de-facto regions and the report prepared by him included "all the important issues on the agenda of the CoE".
The CoE Secretary General stressed he would continue working on this conflict issues affecting Georgia.
International access to Georgia's occupied territories is essential, as the Russians continually violate the rights of Georgians in the occupied regions of Abkhazia and Tskhinvali (South Ossetia).
Hundreds of Georgians have been kidnapped by occupant forces near the Administrative Boundary Lines (ABL) or in the area close to the de-facto regions.
The recent brutal killing of a Georgian citizen, 31-year-old father of two Giga Otkhozoria, by Russia's border guards indicates towards the necessity of international missions in Georgia.
At present, only the European Union Monitoring Mission observes developments on Georgia's contested borders but without access to the occupied regions.
At the same time, Georgia should ensure the continued presence of law-enforcers at the ABLs, as Otkhozporia was killed on an area controlled by Georgia. No one could help despite the fact the incident had dozens of witnesses.