France's famous wine city of Bordeaux announces 2017 as the "Year of Georgia"
Monday, May 30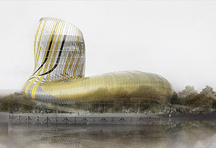 One of the most eagerly-anticipated wine venues in Bordeaux, France is opening next week and has invited Georgia to be an honourable guest to showcase the history and culture of Georgian wine at a special exhibition in 2017.
The new Bordeaux Centre for Wine and Civilisations will open on May 31 in France's famous wine region. For the first year, the centre will promote a range of international wines, but in mid-2017 Georgia will present a solo exhibition celebrating its traditional winemaking and viticulture.
Georgia's exhibition will be named Vineyard-Georgia and take place at the Bordeaux Centre for Wine and Civilisations in July-August 2017.
France decided to host Georgia as its first international exhibition in February this year when a delegation from Georgia's Ministry of Agriculture paid a working visit to France.
At the time of the visit, Georgia's Agriculture Minister Otar Danelia and the chairman of the French wine culture and civilisation, Sylvie Cazes, signed a Cooperation Agreement.
Once the agreement was signed, France announced 2017 as the 'Year of Georgia in Bordeaux' to recognise Georgia as a country with old traditions and a vast wine culture.
"The first exhibition held in the new centre in France will be dedicated to Georgia," said Cazes.
"Georgia is known as the cradle of wine. It will be an important and, at the same time, historical event. The exhibition fair will be accompanied by an extensive professional program including tasting, conferences, seminars and other cultural events which will allow French people to learn more about Georgian wine and about your magnificent country – Georgia", Cazes added.
The Bordeaux Centre for Wine and Civilisations will co-organise and finance the exhibition with Georgia.
Construction of the new centre was initiated by Bordeaux City Mayor, Alain Juppe. The centre, which is 14,000m2, will feature modern architecture and technology and will present the latest achievements in the field.
(Agenda.ge)