World experts head to Batumi for UN environmental conference
Monday, June 6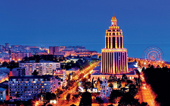 Georgia will host hundreds of international officials at a major United Nations (UN) environmental meeting next week.
About 600 delegates from 56 countries responsible for environmental, defence and education issues will gather in Georgia's Black Sea resort town of Batumi next week to attend the Eighth Environment for Europe Ministerial Conference.
In addition, senior representatives of the business sector, business associations and 55 international organisations will attend the June 7-10 conference.
Green economics, improving air quality for a better environment and a segment on education for sustainable development will be the main topics of the four-day event.
The Eight Environment for Europe Ministerial Conference will be facilitated by the UN Economic Commission for Europe (UNECE). This major gathering of Environment Ministers in Europe is being organised closely with the United Nations Environment Programme (UNEP).
UNEP worked closely with UNECE, member countries and partners on the "strategic framework for greening the economy in the pan-European" that shall contribute to frame more sustainable pathways for the development of the region.
The first ministerial conference took place at Dobris Castle near Prague in 1991, while the last event took place in Kazakhstan's capital Astana in 2011.
(Agenda.ge)