Georgia to raise murder case at Geneva Talks
By Messenger Staff
Tuesday, June 14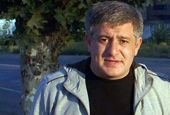 During the Geneva Negotiations that will be held on 14-15 June, Georgia will raise the issue of a murder committed by Abkhazian border guards on May 19.
The information was released by the head of Georgia's delegation, Davit Dondua. According to him, the detention of the murderer is of principle significance in order to avoid possible provocations in the future.
"For the 36th round of the talks, the Georgian side will demand the murderer to be swiftly detained and handed over to the Georgian side in order him to appear before a court," he said.
"We hope the Russian Federation and its occupation regime will recognize their responsibility and do their best to immediately detain the man responsible," Davit Dondua said.
Otkhozoria was on Georgian-controlled territory when he was gunned down by border guards stationed near the Administrative Boundary Line with Abkhazia on May 19.
Otkhozoria was shot six times, including once in the face. He was rushed to hospital but died soon after.
On May 21, Georgia's Chief Prosecutor's Office announced the individual who shot Otkhozoria had been identified.
That same day, video footage was released which showed Otkhozoria retreating from a confrontation with the guards when he was shot.
The Chief Prosecutor's Office has approached Interpol to announce an international search for Otkhozitia's murderer.
In his latest statement a week ago, Prime Minister Giorgi Kvirikashvili stated the alleged offender has not yet been detained, and this might trigger certain confrontations as some may try to carry out personal revenge.
The risk of personal retaliation is real, and a number of locals saw who and how Otkhozoria was shot.
It has been stated and read by Georgian media that the man who shot Otkhozoria was detained just for several hours and was shortly released.
If Russia and the de- facto authorities wished to detain the man, they would have done so already. Maybe it is in their interests for the case to cause confrontation and a strained situation along the ABL.
Since the Russia-Georgia war in August 2008, the Geneva International Discussions have been the only form of dialogue between Georgia and Russia. At the meeting, according to the August 12 2008 Ceasefire Agreement, issues including non-use of force, creation of international security arrangements in breakaway Abkhazia and Tskhinvali region, and safe and dignified return of IDPs and refugees are discussed.