Gov't offers small grants to develop businesses in Georgia's mountainous regions
Monday, June 20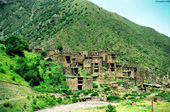 The Government is offering a helping hand to its citizens living in the country's mountainous regions.
The Government announced a new project that offered funds to people who launch a small business in the mountains.
Georgia's Economy Ministry said people from the mountainous areas could submit a business plan to the website www.qartuli.ge from June 27 to July 29 and if selected, receive funding for their projects.
The Ministry will offer small grants from 5,000 to 15,000 GEL.
Deputy Economy Minister Ketevan Bochorishvili said the project had two components; one involved financial support and the other gave beneficiaries easier access to training to improve the skills needed for their businesses.
"The project aims to create more jobs in the mountainous zones and increase entrepreneurship skills in those regions," Bochorishvili said.
The initiative was part of the larger state project Produce in Georgia.
(Agenda.ge)