Tbilisi hosts major gathering of OSCE PA in July
By Messenger Staff
Monday, June 20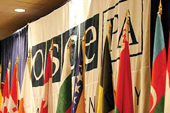 In the beginning of July, Georgia will become a hub of political events as 700 guests from 57 member states from the world's largest security organisation will gather in capital Tbilisi to discuss the security, migration and human rights'-related issues.
The annual session of the Parliamentary Assembly of the Organization for Security and Co-operation in Europe (OSCE PA), entitled '25 Years of Parliamentary Cooperation: Building Trust Through Dialogue', will take place on July 1-5 at the exhibition centre Expo Georgia in the Didube district of Tbilisi.
"It is the first time that Georgia will hosts a session of the OSCE, which will significantly enhance the authority and capacities of the country on the political map," the Parliament of Georgia's statement read.
"The Parliamentary Forum will allow Georgia to advance the issues of importance for us," Parliament added.
OSCE Secretary General Lamberto Zannier, German Foreign Minister Frank-Walter Steinmeier, a United States' Congress delegation, parliament speakers, vice-speakers, members of parliament of various countries and many other participants are scheduled to discuss security issues in the OSCE area, economic cooperation, current challenges in human rights sphere and global migration problems.
The event was special as this year OSCE PA celebrated its 25th anniversary. This year Georgia also marked its 25th anniversary of independence from the Soviet Union.
The primary task of OSCE PA, a 323-member assembly, is to facilitate inter-parliamentary dialogue, an important aspect of the overall effort to meet the challenges of democracy throughout the OSCE area.
OSCE is the world's largest intergovernmental, security-oriented organisation with 57 member states.
This type of gathering is important for Georgia, as they are significant in a number of ways.
Such an event enables Georgia to discuss its existing security problems with major players, as well as establishing Georgia as part of the civilized world.
In addition, it shows that Georgia is ready to host such large-scale and important events, though this event in particular is noteworthy as it precedes the discussions about Georgia's visa-liberalisation in the EU and the NATO Warsaw Summit.