Georgia's GDP increases 2.6% in Q1 2016
Tuesday, June 21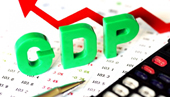 In the first quarter of 2016 (Q1), the real growth of Georgia's Gross Domestic Product (GDP) was 2.6 percent, says the National Statistics Office of Georgia (Geostat).
The figures released today by the statistics agency showed the country's nominal GDP totalled 7.351 billion GEL ($3.02 billion USD), and the country's GDP deflator had increased by four percent.
The preliminary data showed the largest shares of GDP by activity were held by:
• Trade services – 15.9%;
• Industry – 15.7 %;
• Transport and communication services – 11.6%;
• Agriculture, hunting and forestry, fishing – 9.7%;
• Public administration – 8.8%;
• Construction – 7.8%;
• Health and social work – 6.2%;
• Real estate, renting and business activities – 6%.
The Geostat data showed real growth was evident in the mining and quarrying sector (29 percent), construction (25.7 percent), hotels and restaurants (11.7 percent), real estate, renting and business activities (9.4 percent), financial Intermediation (8.4 percent) and education (2.7 percent).
"A decrease in the real value-added occurred in the electricity, gas and water supply (-3.1 percent), community, social and personal service activities (-1.7 percent) and transport (-1.1 percent)," Geostat said.
The statistics agency noted that public infrastructural projects and the construction of a new gas pipeline had led to an increase of real gross value in the construction sector.
Geostat said the adjusted data will be published in November 2016.
(Agenda.ge)