Ruling party sure of victory
By Messenger Staff
Tuesday, June 28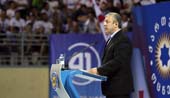 Georgia's Prime Minister Giorgi Kvirikashvili has declared that the ruling Georgian Dream party has all the resources needed to win the upcoming parliamentary elections scheduled on October 8. The Prime Minister made his comments at the Georgian Dream youth organization gathering last week.
"The elections are ahead we feel very responsible for our country's future. The Georgian Dream party will participate in the elections independently for the first time and has all the resources needed to win the election with renewed energy and a clear vision," he said.
"We all should make our voters and supporters see that we are the political team with the ability to properly govern the county, and that Georgian Dream is a party with European values and democratic principles. It leads the way that has no alternative at all. I believe each member of the party - especially the younger ones - will do their best in order to help the party to win the elections. Ours is the party our people trust and believe in, and each step made by us serves to make our country stronger.
"Georgian Dream will inevitably win. I am saying this on the basis of your faces and eyes full of hope," the PM addressed the young members of the party.
Minister of Infrastructure Nodar Javakhishvili says the new election list of the GDDG party will be "very good" , but even if it is "not very good" the current ruling force will win the race.
As the situation has significantly changed in Georgia since the Georgian Dream coalition - originally composed of six opposition parties - defeated the previous ruling United National Movement, none of the parties can be sure they will definitely win the race.
Step by step the Georgian population is becoming more skeptical of populist promises, especially the young generation who are quire critical in their assessments and views.
For the election, each party will require definite, problem-oriented programs with the ways how the complications can be overcome.
The most painful are the social issues. None of the previous Georgian Governments managed to significantly improve the living conditions of Georgians, which has increased the skepticism towards politicians.
The turnover might be lower at the elections compared to the previous one, but the outcome will be more interesting as completion is high.