John Kerry to visit Georgia
By Messenger Staff
Monday, July 4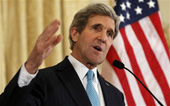 The United States (US) Department of State has confirmed that US Secretary of State John Kerry will pay a one-day official visit to Georgia on July 6.
US Department of State Spokesperson John Kirby announced at a media briefing that Kerry is scheduled to meet Georgia's Prime Minister, the President and leaders of opposition parties while in the country.
The major focus of the meetings will be Georgia's Euro-Atlantic aspirations, the American role in the integration process and Georgia's October 8 Parliamentary elections.
A US-Georgia Strategic Partnership Committee Plenary Meeting is also scheduled, which will be co-chaired by Kerry.
From Georgia, Kerry will leave for Ukraine and then to Warsaw, where the North Atlantic Treaty Organisation (NATO) Summit will take place on July 8-9.
"This will be a strong signal of support for Georgia, which is on its path of Euro-Atlantic integration," US Ambassador to Georgia Ian Kelly said.
According to Georgian officials, NATO is unlikely to provide Georgia with a Membership Action Plan (MAP) for Georgia, but Georgia waits in hope for other genuine levers that will boost the country's self-defence capabilities.
For time being, while summarizing her year-long tenure as Defence Minister, Tinatin Khidasheli said that Georgia and the United States are planning to sign a very important deal.
The Minister refrained from revealing further details, but she stressed it would be a very significant agreement in service of Georgia's self –defence capabilities.
Events in July will illuminate how the NATO and Georgia, and both sides will cooperate for Georgia's self-defence priorities, though any reluctance to offer genuine support to Tbilisi will further damage NATO's image in Georgia; with Euroscepticism on the rise in Georgia after Brexit, the West must provide tangible results lest it will lose an area of strategic influence entirely.