Seven new airlines begin flights to Batumi
Monday, July 11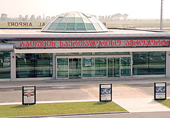 Seven new airlines will soon operate to Batumi International Airport, located on Georgia's Black Sea coastline, to offer more flights and fresh routes this summer.
Scat Airlines and Skybus from Kazakhstan, EL AL Israel Airlines and Israir Airlines from Israel, Air Arabia from the United Arab Emirates, Bravo Airlines from Ukraine and Taban Air from Iran will carry passengers in and out of Batumi for the duration of summer 2016.
During July, Batumi International Airport will receive more than 300 flights from 22 directions.
The flights were mostly scheduled from Turkey, United Arab Emirates, Poland, Israel, Kazakhstan, Belarus, Ukraine, Iran and Russia.
Statistics showed in the first five months of 2016 Batumi International Airport served 54,429 passengers, which was a 32.95 percent increase year-on-year (y/y).
In total, 788 flights arrived at Batumi International Airport between January-May 2016. This figure was 34.9 percent more compared to same period of 2015 when 584 flights were performed.
In order to attract more tourists from abroad, the Government of Georgia launched active PR and marketing campaigns in 11 countries this year, while in 2012 such campaigns were held in only three countries.
As a result, this year two new Kazakh airlines began operating from Batumi, while last year there was no flights between Kazakhstan and Batumi at all.
(Agenda.ge)