The abkhazian killer will not be handed to Georgia
By Messenger Staff
Monday, July 11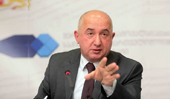 Last week, after a four-year break, the second meeting of the Gali International Pretension and Response Mechanism (IPRM) was held in de-facto Abkhazia, where representatives from Georgia and Abkhazia sat down to discuss existing challenges facing both sides.
Similar to the first IPRM meeting at the end of May, the key topic of the second gathering which lasted for four hours was the brutal murder of a Georgian citizen by a border guard on May 19 at the Administrative Boundary Line (ABL) between Georgia and Abkhazia.
After the meeting, Georgia's Minister for Reconciliation and Civil Equality Paata Zakareishvili said it was the first time in 25 years when a man was sentenced for the killing of a Georgian citizen in the breakaway region.
"The man was sentenced to house arrest, and an investigation is in progress under the auspices of the Abkhazian authorities. We have handed them all additional information that could be useful in the process of investigation. There are no signs the investigation might be suspended or be hindered," Zakareishvili said.
However the Minister said de-facto Abkhazian authorities refused to hand the killer to Georgia.
"I was under no illusions; I was sure that that would not happen happen," Zakareishvili added.
31-year-old Giga Otkhozoria was shot six times by a border-guard on May 19 while on territory controlled by Georgia. He left behind a wife and two children.
It is naturally unlikely that the Abkhazians and their Russian allies will adequately punish Otkhozoria's killer. Georgia must keep demanding the investigation of the issue and the punishment of the killer. The case must not be easily forgotten as such an attitude may set a precedent of similar cases being lightly punished in the future.
Georgia must also exhibit the case as an example of the need for the presence of international missions in both South Ossetia and Abkhazia.