Georgia-China Business Forum held in Nanchang, China
Monday, August 1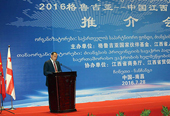 After presenting Georgia's investment climate and ongoing reforms in China's biggest city of Shanghai this week, Georgian officials are continuing to raise awareness of the country's development in other regions of China.
Nanchang, the capital of Jiangxi Province in southeastern China, today hosted dozens of Georgian and Chinese business representatives at the Georgia-China Business Forum.
Speaking to representatives of about 90 Chinese companies, Georgia's Economy Minister Dimitry Kumsishvili outlined Georgia's progress in creating preferential trade regimes with the European Union (EU), the United States (US) and other leading industrial countries.
"I would like to underline Georgia's opportunities and call on you to expand your businesses in Georgia, to open new enterprises in Georgia and then export the production in new directions, including the EU market of 500 million consumers," said Kumsishvili.
China has recently become one of Georgia's largest partners in terms of investment, trade and joint projects.
Chinese firms have successfully been operating in a range of sectors in Georgia for several years however this has intensified over the past 12 months in areas including construction, roads and infrastructure, energy, and the banking sector. China is Georgia's fourth largest trade partner and second largest in terms of export. China takes nine percent of Georgia's entire exports.
Recent important developments between China and Georgia included:
• Making significant progress with Free Trade talks, which started in 2015. A Free Trade deal is expected to come into force in late 2016;
• Establishing a Joint Trade and Investment Council that facilitates the exchange of information about entrepreneurs, attracts investors and develops trade;
• Establishment of the 'One Belt, One Road' initiative that aimed to offer many new opportunities to countries along the Silk Road.
(Agenda.ge)