Head of Constitutional Court to be questioned
By Messenger Staff
Tuesday, August 2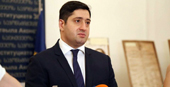 Georgia's Chief Prosecutor Irakli Shotadze has stated that the head of the Constitutional Court of Georgia, Giorgi Papuashvili, will be questioned this week over his statements that some judges of the Constitutional Court are being pressured and blackmailed by the current authorities in relation to some notorious cases.
"All members of the court have already been questioned. The court's head will be questioned this week at the Constitutional Court as he requested himself. From my point of view, this week we will be able to discuss particular mid-term results that will not harm the investigation process," Shotadze said.
Conflict between members of the nine-seat Constitutional Court erupted after five judges accused Papuashvili of trying to speed up decisions into politically-charged trials and not giving judges a reasonable time to relevantly consider the notorious cases.
However, other members dubbed the statement of the five-judges 'groundless'.
Papuashvili was selected as the President of the Constitutional Court of Georgia by the Plenum of the Constitutional Court on September 30 2006 and September 21 2011.
Before taking the post , from February 2004 to February 2005 Papuashvili served as Minister of Justice of Georgia under the previous United National Movement government.
Iin February 2005 he was appointed as the Minister of Environmental Protection and Natural Recourses of Georgia.
The statement made by Papuashvili over the pressure on judges is a very serious accusation.
However, accusations without evidence are meaningless, and his statements have already caused controversy in both the courts and amongst the public.
Papuashvili's statements must be thoroughly investigated to ascertain whether his accusations reflect a very negative reality or if he is trying to create problems for the current Government before his term in the post expires shortly this year before the elections.
(for additional information see article by Tea Mariamidze "Judges deny pressure").