NBG appoints temporary administration to Azerbaijani bank
Monday, August 22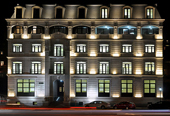 The National Bank of Georgia (NBG) is appointing a temporary administration at the Caucasus Development Bank Georgian branch following the bankruptcy of its headquarters in Azerbaijan.
The NBG explained the best way to ease the challenges currently facing the Azerbaijani bank was to send a banking expert from Georgia to oversee operations in Azerbaijan.
Despite the Azerbaijani bank's bankruptcy, NBG assured the public there were no problems facing theGeorgia branch of the bank.
"The Caucasus Development Bank, with assets amounting to 0.14 percent of the total banking assets of Georgia, continues to serve its clients," stated NBG today.
Capital and liquidity levels of the bank are quite high and, if needed, the temporary administration can fully meet the requirements of creditors, including depositors," said NBG.
"Hereby, we would like to state that the Georgian banking sector is healthy, regulated in compliance with the best international practice and all decisions of the NBG aim at the sustainable and stable development of the banking sector," the Bank added.
This week, two Azerbaijani banks - the Caucasus Development Bank and AtraBank – were declared bankrupt. The licenses of both banks were revoked by the Central Bank of Azerbaijan (CBA) in January 2016, announced Azerbaijan Deposit Insurance Fund (ADIF).
ADIF, which has been appointed the liquidator of the two banks, said the decision on the banks' bankruptcy was made recently by the Baku Administrative-Economical Court No 1.
The CBA revoked the two banks' licenses on January 27, 2016. At the time the CBA said the two banks' licenses were revoked because their total capitals did not correspond to the minimum requirement of 50 million Manats (almost $31 million USD). The banks also could not fulfill its obligations to creditors, CBA explained.
The Caucasus Development Bank started operating in 1999, while it launched in Georgia and opened a branch in Tbilisi in 2013.
(Agenda.ge)