Gov't awards winners of Rio Olympic Games
By Messenger Staff
Monday, August 22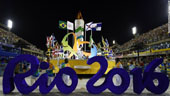 The Government of Georgia has decided to award the winners of the Rio Olympic Games and allocate a certain amount of money for them.
Georgian Olympic champion Talakhadze will receive 170,000 Gel from the government as a reward for winning his gold medal.
According to the decree issued by the Georgian government, silver medal winners will receive 102,000 Gel and bronze medallists will receive 68,000 Gel.
According to the same decree, the Georgian athletes received other bonuses of 3,800,000 Gel in total, as before the Olympics the sportsmen achieved success in world, European and other international tournaments.
Meanwhile, the Sveti construction company handed over apartments in Batumi to Lasha Talakhadze, Irakli Turmanidze and Shmagi Bolkvadze.
Prior to the Olympic Games, Prime Minister of Georgia Giorgi Kvirikashvili said "Georgia would make history" at the Rio 2016 Summer Olympic Games, as a record number of athletes represented the country at this year's prestigious sporting competition.
Thirty-nine athletes – 30 men and nine women – competed in 13 disciplines at the Rio Olympics.
Georgia can be proud of its sport achievements and the country respects it athletes. However, some people believe Georgia could have done better and earned more medals.
It is possible that during the competitions, Georgian athletes lacked psychological readiness, which hindered their performances.
Physical and psychological training and readiness are equally significant when one takes part in such a high-level contest.
It would be better in the future relevant bodies show more interest in the issue and provide high-level psychological support for Georgian athletes prior to and during significant sporting events.