Local family makes wine from grape variety feared extinct
Tuesday, August 23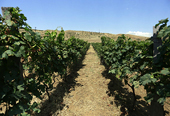 A family living in central Georgia is injecting life back into traditional winemaking and producing wine from a grape variety that was once feared extinct.
The Vanishvili family recently opened the Chateu Ateni wine cellar in Ateni Village, in central Shida Kartli region, and started producing wine from the very rare Georgian grape variety, Atenuri.
The cellar's owner Ioseb Vanishvili said Chateu Ateni would offer two types of wines - Atenuri and Tavkveri – as well as chacha, which is a strong spirit similar to vodka or brandy that some refer to as vine vodka or Georgian grappa.
Georgia's Deputy Minister of Agriculture Levan Davitashvili praised the opening of the boutique wine cellar and especially the revival of the rare grape variety.
"Opening these types of family wine cellars is very important for developing Atenuri wines, agro-tourism and wine industry development," he said.
"Atenuri is very popular grape type and unfortunately, very few wines using this grape variety is produced. This small family business can contribute greatly to promoting and developing this grape variety," Davitashvili added.
Meanwhile, the head of Georgia's National Wine Agency Giorgi Samanishvili said there was large potential for Atenuri wine to be exported.
"Atenuri is one of the most popular and ancient Georgian wines and unfortunately, has become less known in recent years, especially in our export markets. Development of small and medium-sized wine cellars is the first step to promoting and strengthening the local wine industry in Kartli," Samanishvili said.
(Agenda.ge)