World experts seek Kakheti for inaugural wine tourism conference
Tuesday, August 30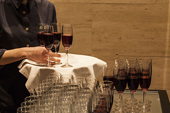 Georgia's winemaking Kakheti region will host a global conference on wine tourism, where gastronomy and wine-lovers are invited to enjoy the culture and lifestyle experience of Georgia while exploring the wine tourism opportunities the country has to offer.
Next month, wine industry experts from around the world will gather in Kakheti to attend the first Global Conference on Wine Tourism organised by the World Tourism Organisation (UNWTO) in collaboration with the Georgian National Tourism Administration (GNTA).
"Wine tourism is a growing segment with immense opportunities to diversify demand. In the case of Georgia, the segment's potential is well-known and we are very pleased to be holding the first UNWTO Global Conference on Wine Tourism in the country," said Taleb Rifai, UNWTO Secretary General.
The UNWTO Global Conference on Wine Tourism will be held on September 7-9, 2016.
The conference will have a unique and dynamic format with three sessions held in different wineries across eastern Kakheti region.
"Georgia's unique wine-making traditions date back 8,000 years and are considered by UNESCO as an intangible heritage, making the country an ideal host for the Global Conference on Wine Tourism," said Georgia's Economy Minister Dimitry Kumsishvili.
"The country's recent success in attracting a growing number of tourists and its development of tourism products, branding and marketing, combine to present an excellent platform for sharing best practices, experience and knowledge," he added.
Honourable speakers for the conference will come to Georgia from Italy, Canada, the United States, Argentina, Japan, Spain and Portugal. Georgian experts will also deliver speeches about the local wine industry and history at the event.
(Agenda.ge)