Georgia isn't as important on the international arena as many think
By Messenger Staff
Tuesday, August 30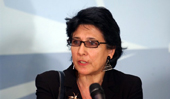 "We are not as important on the international arena as we believe," former Minister of Foreign Affairs and now independent majoritarian candidate for Tbilisi's Mtsatsminda district, Salome Zurabishvili, has said to Georgian media.
According to Zurabishvili, Georgian Dream has problems and many defects but one thing is clear – "we have no criminal government today, as the previous United National Movement (UNM) Government was".
"Unfortunately, we have still not heard comprehensive answers regarding the criminal activities of the UNM," Zurabishvili said , referring to a range of human rights violations under the previous authorities, adding that there are now no political prisoners in this country.
"The Prosecutor's Office has not managed to investigate significant cases but there may be objective reasons for it – I even do not rule out National Movement members having destroyed most of the evidence, but we see criminals and not political prisoners in our prisons now. No one but the United National Movement activists think that ex-officials who are now under arrest are being punished due to their political points of view," Zurabishvili said.
She added that the West is less interested in particular cases than many Georgians believe.
She says it is of the utmost importance to maintain stability in Georgia but it does not mean that Georgia can be considered one of the most important players on the international arena.
Zurabishvili,64, was born in Paris into a family of Georgian political emigrants.
She attended some of the most prestigious French schools, such as the Institutd'EtudesPolitiques de Paris (Sciences Po), and began a Master's program at Columbia University in New York in the academic year of 1972-1973.
She abandoned her studies and joined the French foreign service in 1974, becoming a career diplomat with jobs in Rome, the United Nations, Brussels,and Washington.
The first time Zurabishvili visited Georgia was in 1986 during a break from her job at the French Embassy in Washington.
Zurabishvili was head of the Division of International and Strategic Issues of National Defence General Secretariat of France in 2001-2003.
She was appointed the Ambassador of France to Georgia in 2003.
Ex-President of Georgia Mikheil Saakashvili nominated her as Foreign Minister in his new government and Zurabishvili was the first female to be appointed to this post in Georgia in March 2004.
She was sacked by Prime Minister Zurab Nogaideli in late October 2005 after a series of disputes with members of Parliament and the Government.
In 2006, Zourabishvili founded her opposition party,Georgia's Way which she handed control of to another member of her party in 2010 when she continued her career at an international organization.
Ahead of the upcoming October 8 parliamentary elections, Zourabishvili returned to Georgia and presented her candidacy as a majoritarian candidate in Mtsatsminda independent from any political party.
The current ruling Georgian Dream-Democratic Georgia party did not name any majoritarian nominee in Mtsatsminda, as the party believed that Zourabishvili should appear in Parliament as she enjoyed huge political experience.