Problems of traffic jams in Tbilisi
By Messenger Staff
Monday, September 5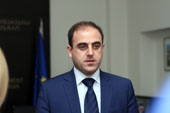 Tbilisi's Mayor, Davit Narmania, said that currently there are 400,000 cars registered in Tbilisi, a number which has doubled compared to the figures of 2010.
The Mayor said the key reason behind the increasing number of traffic jams in the capital city was simply due to a larger number of vehicles in the streets, which were not designed to cater for a large volume of vehicles.
Narmania said the city had a five-point plan to solve the traffic problem in Tbilisi.
These five points of action entail organizing of road infrastructure, improving public transport, imposing new regulations, using modern technologies and raising awareness.
The plan will allegedly be implemented between 2016-17.
The problem of overcrowded streets has been on the agenda of Tbilisi for several years, however none of the city authorities took genuine steps to solve them.
The Government postponed the technical checking of cars several times, presumably not to lose voters, as a significant portion of the Georgian population earn their money through their vehicles.
Together with raising people's awareness over traffic rules, the Ministry of Internal Affairs must be very strict towards road violations.
It must also be mentioned that public transport vehicles are some of the most frequent violators of the rules of the road. Drivers of yellow mini-buses and yellow busses very often violate traffic rules and create danger both for their passengers and pedestrians.
They also very rarely stop their vehicles at zebra crossings.
For their part, pedestrians also very frequently violate traffic rules. The local Government must arrange relevant infrastructure for them, inform them on how they must act when walking or crossing the streets and if not meeting the regulations they must face strict fines.