"Wind in Georgia's service" says Energy Minister
Tuesday, September 6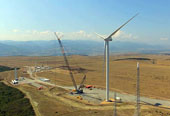 Final installation procedures and preparations are ongoing at Georgia's first wind energy project, a 20MW wind power plant in the Gori municipality in the Shida Kartli region of central Georgia.
The country's Minister of Energy Kakha Kaladze published images from the construction field on his official Facebook page.
"Our 'first bird', wind in Georgia's service," reads Kaladze's emotional comment of the project, which will revolutionise Georgia's energy sector.
The $34 million USD project is being funded by the Georgian Energy Development Fund (GEDF), a joint stock company established by the Government of Georgia together with the European Bank for Reconstruction and Development (EBRD).
The EBRD and Georgia signed an initial agreement on the project in May 2015. The European Bank provided a loan of $24 million for the project – the first of its kind in Georgia.
The total installed capacity of the Gori wind farm will be 20MW and it expected to annually generate 85GW of power.
"As the EBRD's first engagement in wind power generation in the Caucasus region, the project will support the Georgian Government's strategy to foster low carbon generation and cover the country's seasonal winter demand," underlined the EBRD Bank while assessing the transition impact of the project.
"It is the first wind energy project to be implemented in Georgia and thus set an important precedent for further development, unlocking the wind energy potential in Georgia."
Read the article of Genevieve Helliwell 'How can Georgia become more energy efficient? EBRD explores Georgia's energy efficient future' in Special Reports section on Agenda.ge to learn more about the project.
According to the EBRD's Renewable Development Initiative, hydro power was Georgia's most dominant energy resource but wind and geothermal energy sectors were promising resources.
The EBRD estimated Georgia's wind power potential could reach two GW, while other industry sources estimated the country's wind potential could reach five GW - almost half the nation's annual energy use.
A feasibility study by Tbilisi's Karenergo Wind Energy Scientific Centre revealed rich wind resources in the Chorokhi River Gorge, Paravani Lake, the Likhi mountain range, Mukhrani field, the outskirts of Kutaisi, parts of Tbilisi, the outskirts of Rustavi and the areas between Khashuri and Gori.
Meanwhile one small wind turbine was currently operational in Skra village however the facility could only produce 22,000 KW of energy per year - enough for only a couple of households. The project to establish this wind turbine cost about $25,000 and was funded by United States Agency for International Development (USAID).
(Agenda.ge)